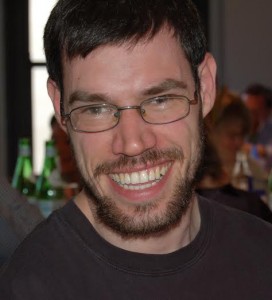 What is your name?  Thomas 
Where do you live?  Hearth.  L'Arche Belfast.  
How long have you lived at L'Arche?  A really long time [12 years].
What do you like to do?  Walking, and run, and have time on my own.  
What do you do during the week?  Go to centre, see people.  Go home.  Go on a wee walk, go to the Ember sometimes [L'Arche Belfast's first home].  
What is your week like?   [On Sundays] go on a run at Mary Peters Track if it's a nice day.  Go to church; sometimes I go to church and sometimes I don't.  
What about the rest of your week?  [Saturday's] go to work at Common Grounds.  
Do you like to work?  I do.  Spend time with nice people.  Very busy in the front [of the cafe].
Do you like living at L'Arche? I do.
What do you like about it?  Nice persons.  Spending time with my family.  
Is L'Arche your family? Yes.  Two houses [the Ember and the Hearth].