"Come on in and get a cup of tea!" — Noreen
Are you interested in becoming involved with L'Arche Belfast?  There are many ways to be part of the L'Arche Belfast Community — as a friend, as a member, as a volunteer, as a core member…  The best way to find out more about us is to attend one of our visitors' evenings or "Fund- and Friend-Raising" events, which take place once or twice a month at different venues in the local area.  See the events calendar in the "About Us" section of the website to see when the next event is, or contact us at our office, 028 9064 1088 for more details.
We Need You…
Are you looking for something more?
Would you like to be part of a community?
Are you interested in getting to know people with learning disabilities?
Have you got time to spare?
Do you want to explore your own spirituality?
We Invite You…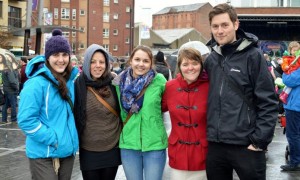 Into relationship with others
To discover the gift of the person with a disability
To get to know yourself
To build community
To reflect on your own values and those of the society in which we live
To open your heart and mind to welcome other points of view
To live your daily life in the spirit of the Gospels
Volunteering Opportunities 
There are a range of ways to get involved with L'Arche as a volunteer.  This includes anything from being a full-time residential volunteer, to helping once a week with one of our work projects, to helping us with fundraising.  We have also provided short-term work placements or internships for students who are pursuing a career in social care, special needs education, or other related fields.
Please contact our Volunteer Coordinator in the office for more information or check out Volunteer Page !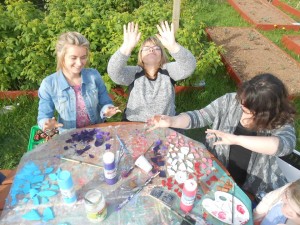 Employment Opportunities