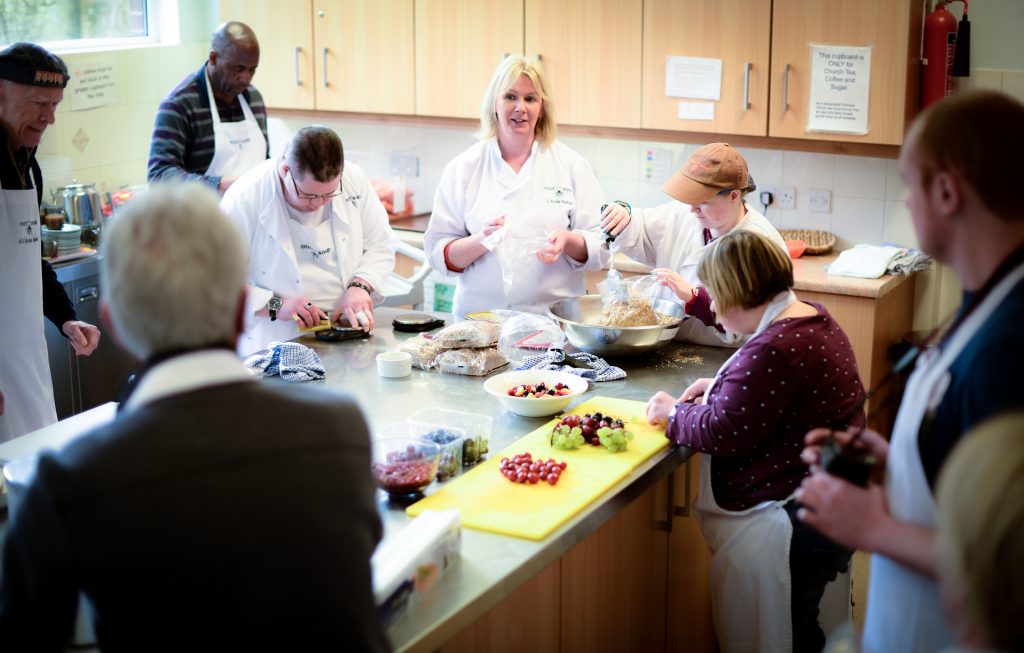 In September 2010 L'Arche Belfast started a new kitchen project called Root Soup. We began cooking soups and baking breads together. Our activities have grown greatly, operating training services every weekday. The project has continued to grow and now we are proud to be able to offer a full catering service for all occasions. Soup is still our specialty and can't be rivalled, but we have branched out and now cater for events large and small.
Our L'Arche kitchen vision came about from a 'Field to Fork' initiative, offering training and employment opportunities across the food chain i.e. growing, preparation and catering.
Choosing Root Soup to cater your party or event supports us to build community, supporting adults with a learning disability to recognise their gifts in a more humane society. From field to fork we are growing and learning together. We focus on offering home-made, freshly prepared, locally produced or organic produce where possible. We grow much of our own fruit and vegetables at our allotments just outside Belfast.
Our service is unique and charming and always comes with a smile.
If you would like to talk about menus and pricing please get in touch with Alison on 07885 200325
Would your organisation consider working with Root Soup to further support your clients? We can also come and provide an affordable community lunch to your group or members. Please get in touch.
We believe that every heart longs for friendship — the kind of friendship that creates space for giving and receiving. We believe that true friendship has the power to heal and transform and helps us to know and be known beyond the identities and labels that limit us.
Root Soup is all about building friendships and growing together; if you would like to get involved in our cookery or gardening sessions please get in touch.
As a volunteer, there are many ways that you can help. Our cookery sessions are 'all hands on deck' and we are kept busy with the great number of community functions we are approached to cater for. If volunteering is of interest to you, please contact Katrina via email.
We can't do all this alone and so welcome your contribution however you would like to be a part of Root Soup. Already we are delighted that every time you use one of our soup recipes you get a flavour of the world where the smallest things often make the biggest difference.
If you would like to donate to Root Soup please get in touch to find out ways to do this, the team we will be delighted to hear from you.
Please call L'Arche Belfast on 028 9064 1088
Root soup works to bring together individuals and communities. We aim to provide community inclusion, to develop cookery and growing skills, to increase confidence and self-esteem to prepare people for independent living and employment. We do this through regular gardening, cookery and service sessions.