Q:What does L'Arche mean?
A: L'Arche is a French word that means "the ark."  It refers to Noah's Ark, a symbol of refuge and the first covenant between God and humanity.
Q:What are the mission and values of L'Arche?
A: We are committed to a vision of the world where everyone, irrespective of capacity, creed, colour, race, age or gender, has a place where they belong and can offer their gifts.  To accomplish this we provide supportive living within an inclusive community of individuals with and without disabilities, as well as several projects that build on the gifts of our members and increase the visibility of adults with disabilities in society.  To learn more about our mission and values, see Our Values page.  To learn more about one of our projects, please see In Other Words (our art project), Green Buds (our gardening project), or Root Soup (our cooking and catering enterprise).
Q: What is the history of L'Arche?
A:  The first L'Arche community was found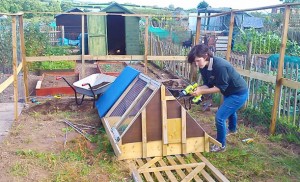 ed in 1964 in Trosly-Breuil, a village nearly 60 miles northeast of Paris, by Jean Vanier. In Trosly, Jean met many people with developmental disabilities who were living in institutions. He was disturbed by the lives they led, so he purchased a small house and welcomed two men with developmental disabilities to live with him.  He named their home "L'Arche", the French word for "the Ark".   Word spread and people from various parts of the  world came to the community in Trosly to share their life with people with an intellectual disability. Although not anticipated by Jean, some of these people were inspired by the vision of L'Arche and founded a L'Arche community in other towns and countries. By 1975, there were 30 communities in France, Canada, India, Africa and Haiti. From a small house in Trosly, L'Arche has expanded to 135 communities in 36 countries around the world.  For further information, please see information on Jean Vanier and the history of L'Arche (source: L'Arche Syracuse).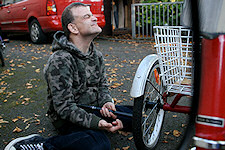 "L'Arche believes in the dignity of every person. This is expressed in a life shared between people with an intellectual disability and those choosing to join them in community. We seek to help each other to grow and develop toward our potential." – Jean Vanier, Founder of L'Arche
Q: Is L'Arche a religious organization?
A: Although its roots are in the Roman Catholic tradition, L'Arche has become both ecumenical and inter-faith,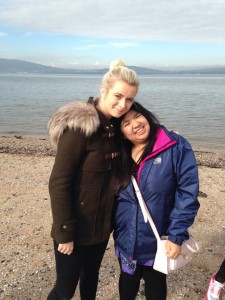 united in a shared vision and spirit, realized through mutually transforming relationships.  Across all five continents, L'Arche promotes the well-being of each member, regardless of their faith, religious or philosophical tradition. Whether one is Christian, Hindu, Muslim or one of the many who stand outside the major faith traditions, the experience of living together leads to a better understanding of our common humanity, and the life-spirit that enables such a very diverse group of people to live in harmony together. Given L'Arche's stated aim to help each person develop and fulfill their potential, the community is led naturally to respond to their needs, whether physical, intellectual, emotional, relational or spiritual (source: L'Arche International).
Q: How many L'Arche communities are there in the world?
A:  L'Arche Belfast is part of an international federation that includes 143 communities in 35 countries, from Belgium to Brazil, Uganda to the United States, including the UK. It is led and supported by a leadership team, legally incorporated in France.  Over 3,500 people with learning disabilities live in L'Arche Communities worldwide. (source: L'Arche UK).
Q:How does L'Arche work on a day-to-day basis?
A: According to the Charter of L'Arche International: "Home life is at the heart of a L'Arche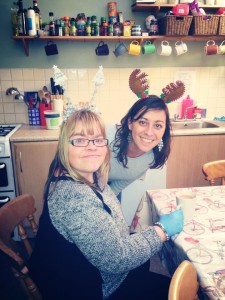 community. The different members of a community are called to be one body. They live, work, pray and celebrate together, sharing their joys and their suffering and forgiving each other, as in a family. They have a simple lifestyle that gives priority to relationships."
Q:  How many houses does L'Arche Belfast have?
A:  Currently L'Arche Belfast manages three homes, in addition to an office space.  Two of the houses, the Hearth and the Ember, are home  to core members; a third house (the Ark) houses international volunteers and over-night guests.
Q:Where is L'Arche Belfast located?
A: L'Arche Belfast is located on the Ormeau Road in Belfast in the neighborhood of South Belfast.  South Belfast is a thriving neighborhood with many restaurants, coffee shops, stores, and parks located in close walking distance.  Belfast's City Centre is also close by; there are many exciting festivals and events happening on a regular basis in Belfast.
Q:  How many core members live at L'Arche Belfast?
A: Currently, 9 core members (adults with a learning disability) live in L'Arche Belfast.  Many more adults with  a learning disability take advantage of L'Arche Belfast's various activities and day programs, such as Root Soup, Green Buds, and In Other Words.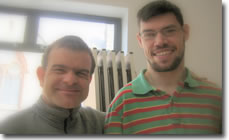 Q: How many assistants and volunteers work at L'Arche Belfast?
A:  Currently there are about 10-12 assistants in each house (the Ember and the Hearth).  A portion of the assistants are international volunteers that have come to make L'Arche their home for a period of time (usually 1-3 years), and a majority of assistants are local to Belfast.  This  makes L'Arche Belfast a very international community, as currently we have assistants from all over the world:  Canada, the United States, France, Spain, Czech Republic, Poland, and Japan!