L'Arche Belfast:
Changing the world one heart at the time.
Your legacy gift to L'Arche Belfast
L'Arche Belfast is a charity based in South Belfast. We are a community of adults with and without learning difficulties who recognise each other's gifts and work together to build a more human society. We believe that people with learning disabilities have much to teach us and contribute to the world.
In L'Arche we celebrate people with learning disabilities and build circles of support around them. What makes us different is our focus on building spaces for friendship and belonging. We know that by supporting each other, irrespective of our level of abilities, we open opportunities for all of us to grow. We are also aware of the importance of sharing what we have learnt with the rest of the world. It changes perceptions around disabilities, breaks down barriers and creates a more inclusive society.
L'Arche communities hold in balance these four elements: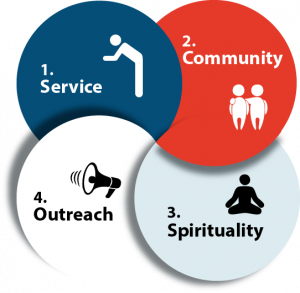 Experience has shown that each of these elements has an important role to play and is essential for healthy community. They are all interrelated and are fundamental for us. By working in each one of them we become better at the others.
Thank you so much for considering leaving a gift in your Will to L'Arche Belfast and helping us continue to change the world one heart at a time.
What your gift could achieve
L'Arche communities exist to celebrate the gifts of all people, especially those who have learning disabilities. Leaving a gift to L'Arche Belfast is one of the best long term ways to support our work. More and more people are finding that after they have ensured family and friends are taken care of, leaving a gift to L'Arche Belfast is a wonderful way of making a positive impact to community living for adults with learning difficulties.
How to leave us a gift in your Will
Leaving a legacy gift is an important decision and one that much thought should be given to. It doesn't, however, have to be complicated. Here are some of the basics:
State in your Will that you would like to leave a gift to L'Arche Belfast. We recommend using a solicitor or professional will writer to make sure your will is legal and valid.
Include our full name and charity number, to make sure the money goes to the right place: L'Arche Belfast – Registered charity XR 51980.
If you would like your gift to be used for a specific purpose or in a specific location, you can add this in to your Will.
If you have already written us into your Will, we're very grateful and would love it if you could let us know.
What types of gift can you leave?
There are many types of charitable gifts people can leave in their Wills. These include:
A share of your estate. After you've provided for your family and loved ones, you can leave a share of your estate – or the remainder of it – to your designated charity. This is called a 'residuary gift'.
Cash gift. This is when you leave an exact sum of money to the charity. It's known as a 'pecuniary gift'.
A specific gift, such as property or jewellery.
A gift in trust. You can leave a gift for someone to use over a period of time. When the time has ended, the gift can be passed on to other recipients, such as a charity. We would strongly recommend always asking a solicitor about gifts in trusts, life interests and conditional gifts. It is important to word these gifts very carefully to make sure your wishes are reflected and your loved ones are taken care of as you intend.
What about Inheritance Tax?
Leaving a gift to a charity can reduce your inheritance tax bill and in certain circumstances reduce the rate of inheritance tax payable.
Your beneficiaries will only have to pay inheritance tax if your estate is over a certain value. If they do have to pay it, 40% may be deducted from the portion of your estate that's over the threshold. The threshold can change. Keeping up-to-date with the current rules will help your loved ones pay the right amount in their inheritance tax. You can make gifts in the terms of your Will which may help to minimise your estate's inheritance tax liability. These include gifts between spouses and gifts to charities.
If you have any questions or would like any advice about inheritance tax, please talk to your legal advisor.
Inheritance Tax
Currently paid to the Government at a rate of 40% on any part of your estate over £325,000 for a single nil rate band and up to £650,000 for estates with the benefit of a Transferable nil rate band (as at time of writing)
Most gifts left to L'Arche Belfast are exempt from this tax because we're a charity.
In April 2012, the government introduced a change to inheritance tax legislation meaning in some situations, anyone leaving 10% or more of their taxable estate to charity like L'Arche Belfast may qualify for a reduced rate of inheritance tax.
You can find more information about inheritance tax on the HMRC website.
You can make a difference
When you leave a gift in your Will to L'Arche Belfast you can be assured that it will be well spent in helping local adults with learning difficulties transform their lives.
If you would like to organise your Will through the "Action Your Will" Campaign, please contact our Business Manager, on 028 9064 1088.