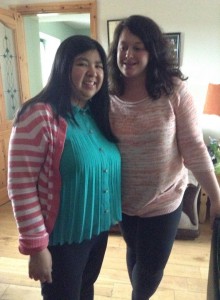 Hi! I'm May!
So much has been going on, I can't remember it all!
I started working in the office on Tuesday afternoons with Naomi. We plan events, count money, make posters, send emails, make calls, and stuff like that. I love it.
I've been to Canary Islands, Kilkenny, and Amsterdam on holiday in the past year. We went to visit a past assistant (Luisa) in Tenerife, had a great time, went to the beach!
Cross links is a youth group that I used to do it was on Monday nights and it's finished now. I feel sad about that.
Life in the Ember is great, I like the other core members and the assistants.  It's Easter, we're having some parties.